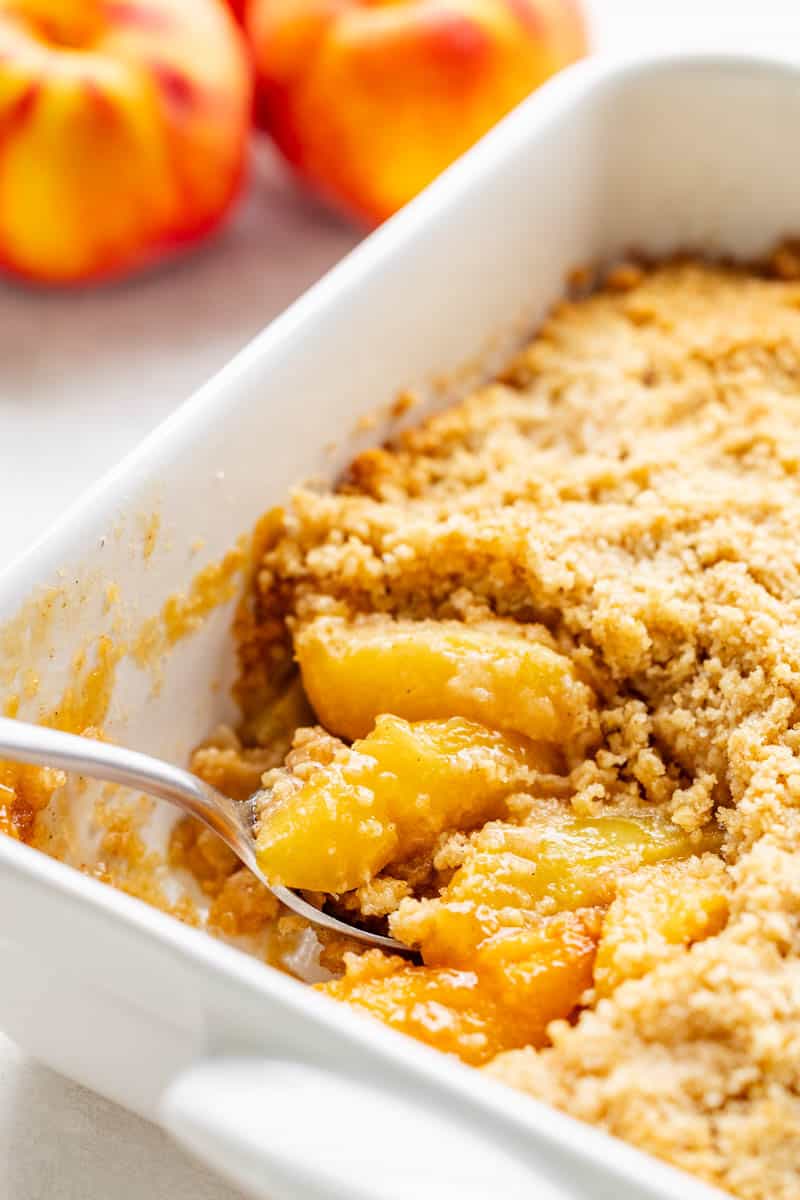 Discover the joy of a homemade peach crumble – a dessert as easy as pie but twice as delicious.
As the scent of fresh peaches and cinnamon wafts from the oven, you'll be captivated by the simple charm of a peach crumble. This delightful dessert, with its tender fruit center and crumbly topping, effortlessly combines the juicy sweetness of summer peaches with the comforting warmth of a homemade treat. In contrast to its extravagant cousins like pies and tarts, a peach crumble invites you to revel in simplicity, capturing the essence of good food shared with loved ones.
Choosing the Perfect Peaches
Picking the right peaches is vital for the success of your crumble. Choose peaches that are ripe but still firm, with a vibrant color and a sweet smell. Avoid fruits with blemishes or overly soft spots. While any peach variety will work, yellow peaches are often favored for their sweet and slightly tart flavor.
Customizing Your Peach Crumble
The beauty of a peach crumble is its versatility. You can add blueberries or raspberries to the peach filling for a burst of color and flavor. Add chopped almonds or pecans to your crumble topping for extra crunch. For a hint of spice, a touch of nutmeg or ginger can be a delightful addition.
Frequently Asked Questions
Can I use canned or frozen peaches instead of fresh?
Absolutely! Frozen peaches are a great option, especially when fresh peaches are out of season. Just make sure to thaw and drain them properly to remove excess moisture before using. The excess water could make your crumble soggy. You might also need to slightly adjust the cooking time, as frozen peaches might take a little longer to cook.
Alternatively, you can substitute fresh with canned peaches. Just be sure to drain them well before using.
Can I make this gluten free?
Replace the flour with a gluten-free flour blend. Final taste and texture may be affected with this substitution.
What can I use in place of butter?
If you are dairy free, consider using a plant-based butter alternative or refined coconut oil.
What can I use if I don't have a 9×9 baking pan?
You can use any similarly sized baking dish. The key is to ensure the peaches and topping are spread in an even layer.
What if I don't have a food processor?
No need to worry if you don't own a food processor; you can use a pastry cutter or even two forks to prepare the crumble topping. The key is to work the butter into the flour mixture until it resembles breadcrumbs.
Crisps vs. Crumbles
While they both celebrate fruits in their deliciousness, a significant difference sets crisps and crumbles apart. A crumble, like the peach crumble, features a streusel-like topping made from flour, sugar, and butter. On the other hand, a crisp includes oats in its topping, offering an extra crunch and heartiness. Each has its charm, but today, let's savor the delicate simplicity of a peach crumble.
Tips From the Chef
Choose ripe but firm peaches for the best texture.
When preparing the crumble topping, aim for a breadcrumb-like texture, not a dough.
Remove crumble from the oven once it is golden on top.
Allow the crumble to cool slightly before serving, this helps the flavors meld together.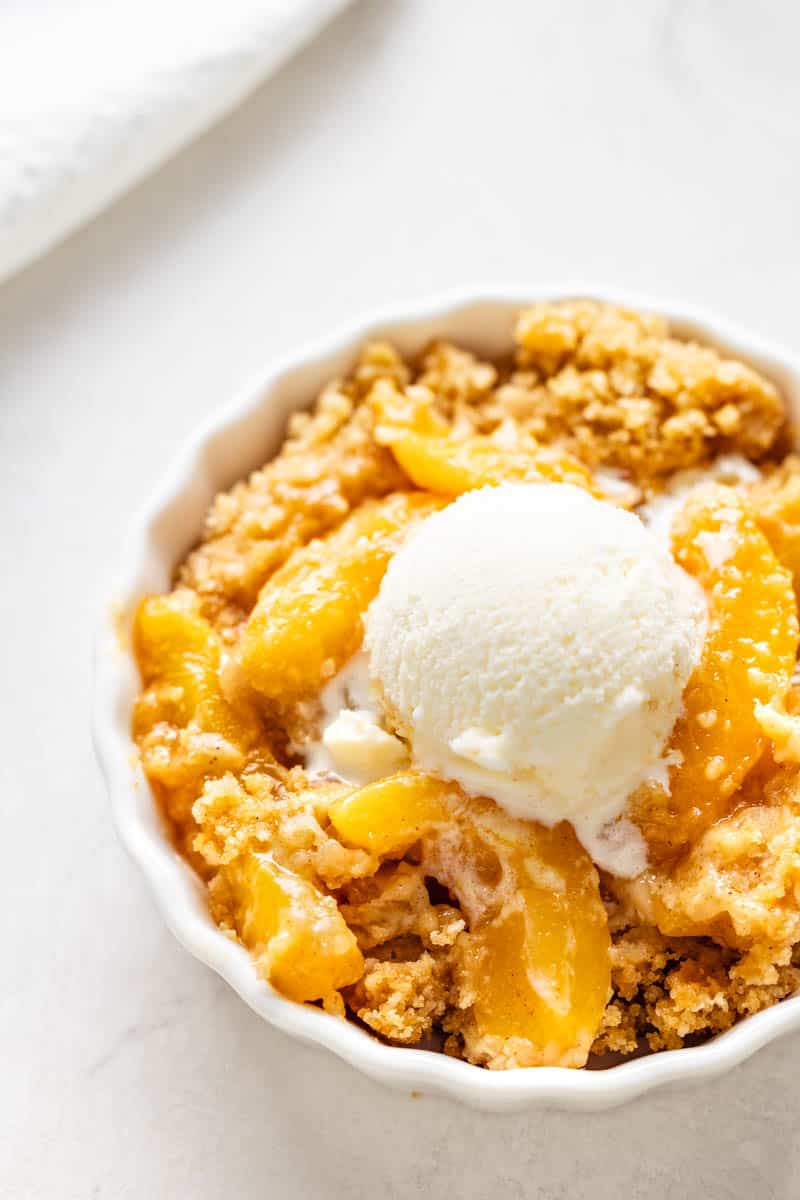 Make Ahead Instructions
You can prepare the peach filling and the crumble topping a day ahead and store them separately in the refrigerator. When ready to bake, assemble and pop it in the oven. This makes it an excellent choice for meal prep or for those occasions when you want to impress without the stress.
Storage & Reheating Instructions
Leftover peach crumble can be stored in the refrigerator for up to 5 days. To enjoy it warm, reheat in the oven at 350°F until heated through. If you've made a larger batch, you can freeze individual portions in airtight containers for up to 3 months. Reheat from frozen at 350°F until warm and crisp.
Crisps, Cobblers, and Pies. Oh my!